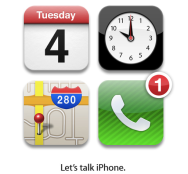 Corroborating a report last week from All Things D, Macworld along with a host of other tech websites are reporting that they've received an official invite to a special event next week to be held on Apple's Cupertino campus at 10 a.m.
As with most Apple event invitations, details are scarce. But the invitation featured four icons for iPhone apps: Calendar, with its icon displaying Tuesday the 4th; Clock, with the time displaying 10:00; Maps, with its usual icon, which displays Apple's Cupertino campus, and the Phone app, with a "1" badge.
Tim Cook will reportedly take the stage and help introduce Apple's next-gen iPhone, though it remains to be seen if Apple will announce just an iPhone 4S or if the rumored larger-screened iPhone 5 will also make an appearance. It's also believed Apple will release a refreshed iPod Touch as well.
We'll find out soon enough, though Federico Viticci of MacStories comically tweeted that the "1" badge on the phone icon signifies only 1 new iPhone model this Fall.
"1 badge on Phone = only 1 iPhone model. There you have it. BAM."
It's a wild theory, but we like it!
via Macworld