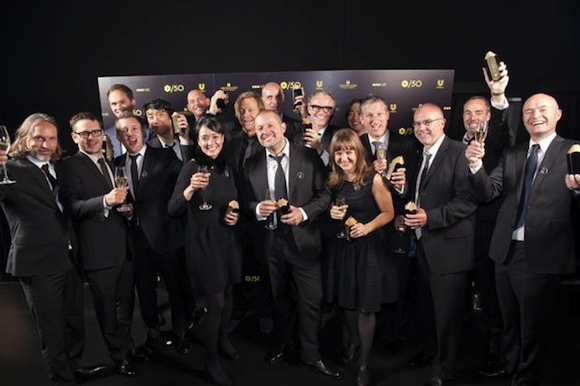 The London Evening Standard reports:
Apple has been named the best brand and the best design studio of the last 50 years at the D&AD Awards, one of the world's most prestigious prizes for advertising and design.
Sir Jonathan Ive, the company's design guru, who usually eschews publicity, came to collect the awards, which were held at a dinner at Evolution in Battersea Park in London.

Even more unusually, Apple flew in its entire design team from San Francisco in recognition of the importance of the D&AD Awards and all 16 of them – 14 men and two women – accompanied Sir Jonathan on stage to collect the award for best design studio.

It is understood that Apple's design team have never previously attended an award ceremony. Their appearance was all the more notable given that Apple is focused on the global launch of its iPhone5, which hits stores on Friday.

Sir Jonathan Ive declined to say anything publicly but wore a big smile as he chatted to fellow guests at the 50th anniversary celebration of D&AD, which stands for Design and Art Direction.