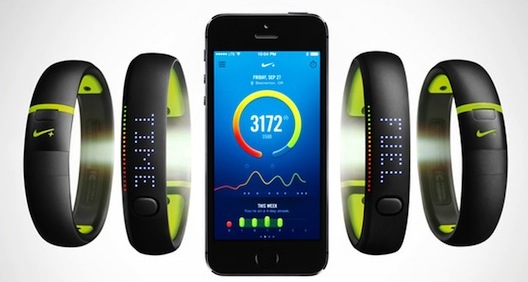 CNET reported yesterday that Nike laid off its entire Nike FuelBand team and that the company was planning to get out of the hardware business entirely in order to focus on software.
The company informed members of the 70-person hardware team — part of its larger, technology-focused Digital Sport division comprised of about 200 people — of the job cuts Thursday.

…

Of those 70 employees, about 70 percent to 80 percent — or as many as 55 people — were let go.
News of the layoffs naturally sparked debate as to the underlying cause. While the ostensible conclusion was that Nike was making a purely economical decision, it's hard to ignore the fact that Apple CEO Tim Cook has been a long-time board member at Nike and that Apple may be releasing an iWatch sometime later this year.
Still, Nike was quick to respond to the report, telling Re/Code that it plans to continue selling the Nike FuelBand and that it only laid off a relatively small percentage of employees.
The Nike+ FuelBand SE remains an important part of our business," the company said in a statement emailed to Re/code. "We will continue to improve the Nike+ FuelBand App, launch new METALUXE colors, and we will sell and support the Nike+ FuelBand SE for the foreseeable future."

The language does seem to leave a lot of room, however, for the possibility that the Portland athletic apparel giant won't produce future products in the FuelBand line. One source with knowledge of the situation said that it could be that Nike wants to be able to run down its inventory of devices, or that it still has not completely decided to shutter the unit.
I suppose time will tell.