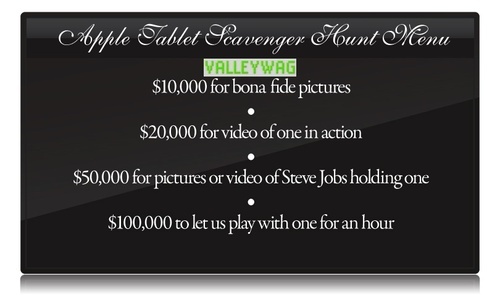 Apple today all but confirmed the existence of a tablet when it sent a cease and desist letter to Gawker demanding it that it immediately stop running a contest whereby it would pay tipsers huge sums of cash for tangible and verifiable information about Apple rumored tablet device. For example, Valleywag, a Gawker web property, has a standing offer of $50,000 to anyone who can provide a photo or video of Steve Jobs himself holding a tablet.
Naturally, anyone with access to Apple's mythical device would be subject to a strict NDA, and inducing someone to break that contract via monetary incentives runs afoul of the law. It should therefore come as no surprise that Apple hit Gawker with a letter stating that if they keep the contest, aptly named "scavenger hunt", alive, Apple reserves the right to pursue legal action.
While Apple values and appreciates vibrant public commentary about its products, we believe you and your company have crossed the line by offering a bounty for the theft of Apple's trade secrets. Such an offer is illegal and Apple insists that you immediately discontinue the Scavenger Hunt.
Gawker, for its part, seems to be wholly unaware of the legal implications of their actions (they live in an Internet bubble, what do you expect?), with Jesus Diaz of Gizmodo (another Gawker property) boldly stating:
Oh well, you have to do what you have to do: The offer still stands.

Just don't do anything illegal to get any of the evidence, and use an anonymous mail when sending your picts or video to Gabriel at Gawker. [Gawker]
Umm, yeah, because that little disclaimer will do a whole lot to protect Gawker from legal recourse.