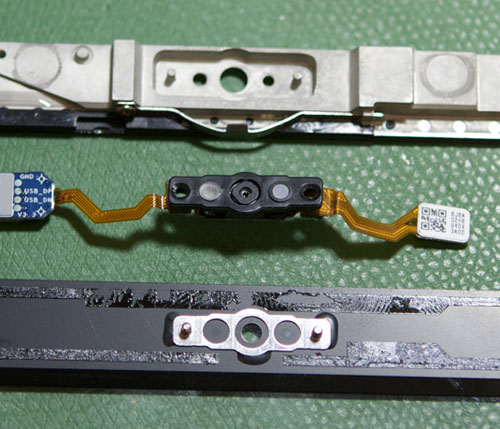 Mission Repair, a company that specializes in MacBook, iPod, and iPhone repairs got their hands on the iPad's internal frame, and what they found suggests that a camera enabled iPad may be a reality sooner rather than later.
Upon examining the iPad enclosure, Mission Repair noticed a spot seemingly begging for a camera. So on a hunch, the took an actual camera from a unibody MacBook Pro to see how it would fit. Turns out, it lines up perfectly.
Guess what, it fits right in there. The camera slips in the frame, the lens fits in the hole, the LED that indicates that the camera is on, fits, and the ambient light sensor hole is also correct. It appears that the plans to have camera in the iPad is a reality.
In the picture above, the top device is the iPad frame while the item in the middle is the MacBook Pro camera. On the bottom is a MacBook Pro frame.