Confirming earlier speculative reports, it appears that Apple has in fact acquired a privately held ARM design firm called Intrinsity. Intrisity is well regarded for their low power designs, enough to earn them a spot as an EDN Innovation Aware finalist "in both the microprocessor and Innovator categories."
"We're a speed shop that doesn't go and burn a lot of fuel in the process," Intrinsity president and CEO Bob Russo has stated. Russon and his team of 99 "grease the wheels of a CPU by trimming inefficiencies in the way logic gates are used."
If you've been paying attention to some of the early iPad reviews, one of the more common threads among them is the extraordinary battery life made possible by Apple's A4 processor. It's clear, and has been for sometime, that Apple views battery life as an integral part of its mobile products, so much so that they purchased PA Semi back in 2008 for $278 million, a hefty amount of change for a company like Apple that doesn't go around purchasing companies all that frequently.
In any event, some LinkedIn sleuthing courtesy of MacRumors confirms that a number of Intrinsity employees have now begun listing "Apple" as their current employer.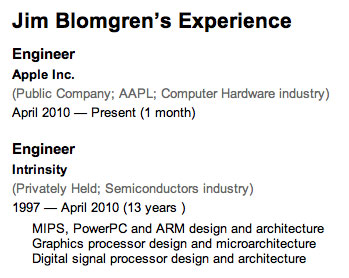 MacRumors notes that the job changes for former Intrinsity employees are listed as taking effect in April 2010, and that 13 employees in total now appear to be working in Cupertino. By all appearances, it seems that Apple acquired the design firm – either that, or they raided their top talent like a motha'.