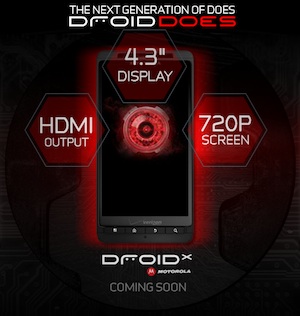 MacRumors points us to a new teaser ad for the upcoming Motorola Droid X. As you can tell, Motorola is touting a 720p screen, suggesting that the device might carry a resolution of 1280×720.
One of the key selling points of the upcoming iPhone 4 has been the device's high res and 326 pixel-per-inch Retina Display. Is it possible that Motorola will be matching the iPhone 4 display this quickly?
The Droid X's apparent larger pixel count coupled with its larger display size suggests that it could offer a nearly identical pixel size to Apple's iPhone 4, but with the ability to display more content on its larger surface area.

Apple CEO Steve Jobs claimed during iPhone 4's introduction last week that the device's Retina display would set the standard for smartphone displays for the next several years. Motorola appears to be moving quickly to counter Apple's technological leap, however, and while the full specs of the Droid X and its display aren't yet known, it at least attempts to meet or exceed one of iPhone 4's key marketing points.
Interestingly enough, earlier this week we reported that Motorola is rumored to be working on an upcoming device that will "incorporate everything that is technologically possible in a smartphone today." Could this mythical device, in fact, be the Droid X?
via MacRumors