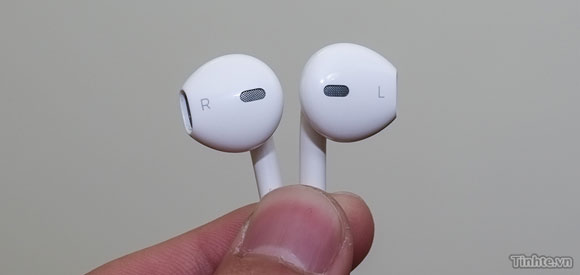 Might you be looking at Apple's revamped headphones?
The photos emerged from a blog post and video (since removed) with the translation of the video reading as follows:
In my hands are the new earphones for the iPhone 5 that is about to come out – Apple's next generation of iPod [sic]. These will replace the current earphones that are on the market. These are manufactured at Phax Co factory in Vietnam. They have the appearance of a horse's head, not like earbuds. When they are worn, they have a much smaller profile. They have the appearance of a fully integrated, single unit – there's no part that looks like it would come apart – not like earbuds; the integrated design is characteristic of Apple products. Here I have the old earphones for comparison. The new ones are much smaller; when they are worn, they do not hurt the way earbuds do. You can see on the old ones the surface is a separate part that looks like it can be detached – not like the small surface of the new one. The old earphones were mostly made in China, with some in Vietnam. But the new ones are clearly made in Vietnam. (Reading from the wires): "Designed by Apple in California, assembled in Vietnam."
Interesting design, to be sure, and given that I can't stand/wear Apple's current headphones, hopefully these will be a lot more comfortable.
via MacRumors