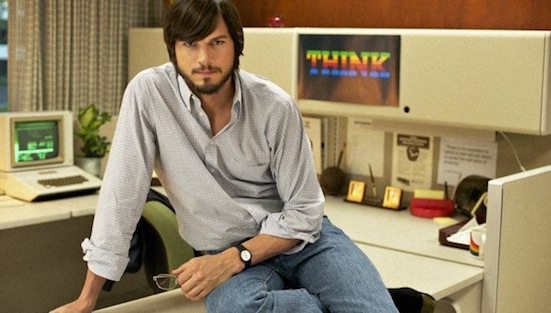 Get ready for some Ashton filled Steve Jobs movie goodness, folks. I hesitate to say that the film is highly anticipated, but the Steve Jobs film starring the former "That 70s show" star is set to be released this April.
The film, aptly titled "Jobs", will close out the Sundance Film Festival this year as well. That little festival is going down in Utah at the end of the month.
Directed by Joshua Michael Stern, written by Matthew Whitely, shot by Oscar- winning cinematographer Russell Carpenter and produced by Mark Hulme, jOBS details the major moments and defining characters that influenced Steve Jobs on a daily basis from 1971 through 2000. jOBS plunges into the depths of his character, creating an intense dialogue-driven story that is as much a sweeping epic as it is an immensely personal portrait of Steve Jobs' life. The filmmakers were granted unprecedented access during shooting to the historic garage in Palo Alto, that served as the birthplace to Apple Inc. jOBS stars Ashton Kutcher, Dermot Mulroney, Josh Gad, Lukas Haas, J.K. Simmons and Matthew Modine.
And for full effect, herre's another photo of Kutcher as Jobs, albeit from a different era in Jobs' life.
Lastly, you might also remember that there is another Jobs movie in the works, this one penned by none other than Aaron Sorkin and will be bankrolled by Sony Pictures.
via Deadline