Adding more credence to a report from last week which claimed that Apple was going to partner up with Broadcom to deliver 802.11ac networking (aka 5GB WiFi) to its line of desktop and notebook computers is a new job posting from Apple explicitly seeking an System Test Engineer with 802.11ac expertise.
The job posting reads: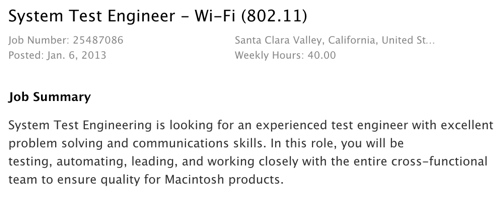 As it stands now, Apple's current lineup of Macs utilize the 802.11n networking standard which is capable of data transfers of 450Mbps with three antennas, something 802.11ac can do with just one. And with three antennas, the 802.11ac chipset offers 1.3Gbps of throughput, all the while providing improved power efficiency.
via AppleBitch