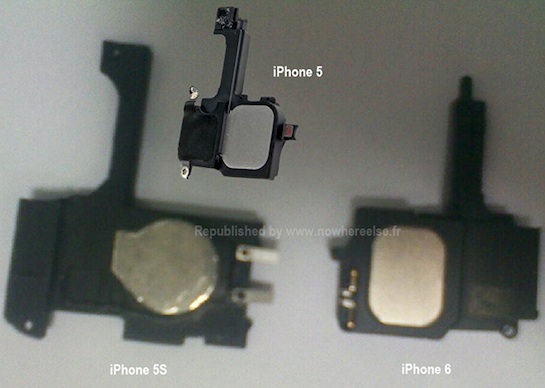 The French language site NoWhereElse.fr this past weekend posted photos purporting to show components for the upcoming iPhone 5S and the iPhone 6. The images, as tends to be the case, were reportedly sourced from a component supplier and are of speaker enclosures.
AppleInsider adds:
The site contends that Apple will deviate from its normal schedule of releasing one iPhone per year and instead roll out as many as three iPhones in 2013. The iPhone 5S will allegedly serve as an incremental improvement on the iPhone 5, while the iPhone 6 will be a more substantial redesign, though no details were reported as to the possible differences between the two.

A third iPhone model would supposedly be the rumored iPhone Math (or iPhone +, depending on the interpretation), a larger-screened iPhone meant to give Apple a stake in the nascent but growing "phablet" sector.