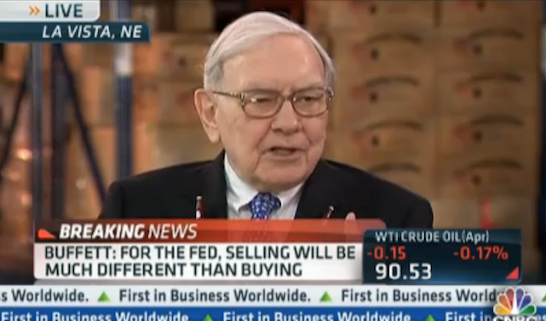 Apple just can't seem to do anything right in the eyes of Wall Street these days. Despite record setting profits and tremendous prospects for growth ahead, the company's share price continues to drop.
As of Monday morning, shares of Apple are down $7.04 for the day, trading at $423.49 per share. Overall, this is the lowest shares of Apple have been in well over a year.
Early on Monday, famed investor Warren Buffet appeared on CNBC's Squawk Box where he addressed Apple's beleaguered share price.
First, Buffet reiterated advice he gave to Steve Jobs many years ago, namely that if you run a business the right way, and focus on long term gain and profits, eventually the shares will respond.
Delving deeper on that point, Buffet referenced the recent lawsuit (since dropped) from Hedge Fund manager David Einhorn.
"I would ignore him. I would run the business in such a manner as to create the most value over the next five to 10 years. You can't run a business to push the stock price up on a daily basis. Berkshire has gone down 50% four times in its history. When that happens, if you've got money you buy it. You just keep working on building the value.

"I heard from people each time [Berkshire shares went down], saying why don't you do this or that. Pay a dividend. I think Apple's done a good job of building value. They may have too much cash. Now one reason they have so much cash is two thirds of it has not yet been taxed.
Further, Buffet said that now may be a good time for Apple to buy back some of its own shares. On that note, Buffet relayed how Steve Jobs once called him up to discuss Apple's growing cash hoard.
"When Steve called me, I said, Is your stock cheap? He said, yes. I said, Do you have more cash than you need? He said, a little. [laughs] I said, then buy back your stock. He didn't. Now, when our stock went from $90,000 to $40,000 to $45,000, I wrote about, we wanted to buy the stock. We didn't quite manage to.

"But if you could buy dollar bills for 80 cents, it's a very good thing to do."
Steve Jobs, though, famously ignored Buffet's advice and reportedly told people that Buffet had privately told him to do nothing with the cash.
Oh Steve.
via Fortune