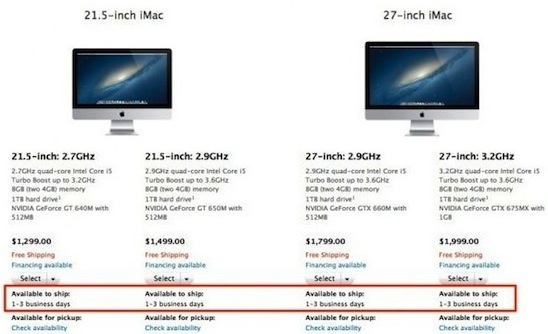 After months of shipping delays, it appears that Apple has finally gotten its iMac supply problem under control. If you hop on over to Apple's website you'll note that shipping times for its refreshed lineup of iMacs (you know, the ones without optical drives) is now down to just 1-3 business days.
Originally released back in November, Apple has been struggling to keep up with demand for quite some time, with some areas having experienced upwards of 4-6 week delays in shipping. Indeed, the backlog of iMac orders contributed to Apple posting much lower than anticipated Mac sales figures during its most recent quarter.

Always pushing the envelope, Apple's new iMacs are remarkably thin and utilize a new lamination process to keep the screen as thin as possible. It's believed that this new process has been the culprit behind the delays.
via Cult of Mac