If there's one analyst with an exemplary track record when it comes to predicting Apple's upcoming product roadmap, it's Ming-Chi Kuo of KGI Securities.
Earlier this week, Kuo reiterated his earlier prediction that Apple this Summer will prepare to launch two distinct iPhone models – a revamped iPhone 5S alongside a more economical iPhone that will be built out of fiberglass and plastic. As one would expect, the more economical iPhone won't be quite as fast and snazzy as the flagship iPhone 5S will be.
So just what exactly will make the iPhone 5S different from the iPhone 5?
Well like the iPhone 4 to iPhone 4S jump, the iPhone 5S will be markedly faster than its predecessor. What's more, it will have a decidedly improved optics system, with some other rumors pointing to a 13 megapixel lens from Sony. Kuo adds that the iPhone 5S will also include a "smart flash" which utilizes white or yellow LEDs which results in higher quality photos. Also of note is that the iPhone 5S, according to Kuo, will include a fingerprint authorization sensor utilizing technology Apple acquired when it purchased AuthenTec.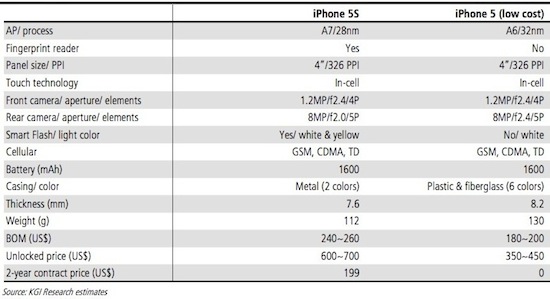 Internally, Kuo writes that the iPhone 5S will sport Apple's latest and greatest A7 processor.
And just when can we expect the iPhone 5S to ship?
We expect Apple will introduce its new iPhones and iOS7 in June, and start shipping the new iPhones (5S and low-cost model) in the FDD version in July. Both dates are earlier than last year's roadmap. We attribute this to: (1) an effort to avoid repeating the fatal mistake of last year of the delayed iPhone 5 launch, which gave competitors room to grab market share; and (2) the new iPhones this year are mainly designed on the basis of the current iPhone 5, which suggests development time could be reduced.
Following that, Kuo writes that an iPhone supporting the time-division duplexing (TDD) standard used by China Mobile will ship in September. This is extremely significant given that China Mobile is the largest mobile carrier on the planet and will undoubtedly help fuel Apple's growth in the far east.
As for the lower cost iPhone, Kuo writes that it will differ form the iPhone 5S to the extent that it will not incorporate fingerprint technology and, again, will be manufactured out of fiberglass and plastic. The iPhone 5S will continue to use an aluminum casing lending itself to an overall lighter device.
Lastly, the iPhone 5S will come in two colors while the still-nameless lower cost iPhone model will reportedly come in 6 colors.