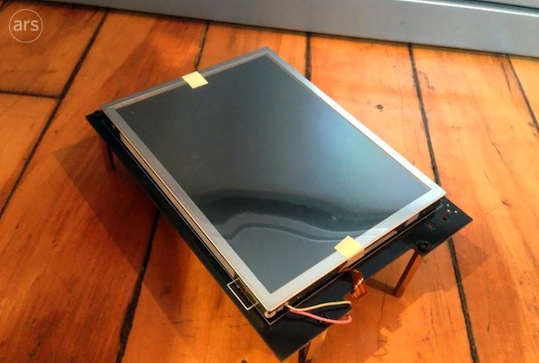 Thanks to the Apple/Samsung trial, we've seen a plethora of iPhone prototypes. But earlier today Ars Technica got its hands on photos of an extremely early iPhone prototype. And by early, I mean that this bad boy looks more like an iPad than a phone.
The prototype above is 5×7 inches and comes equipped with a bunch of access ports; not necessarily because Apple was planning to ship an iPhone with an ethernet port, but rather because it made working on and testing the device much easier.
The photo – and others – came from a former Apple employee who worked on a variety of Apple hardware projects back in the early 2000s. The photo above purports to be of an iPhone prototype in 2005. Notably, development on the original iPhone – at least the software portion of the project – began in late November or December of 2005 according to court documents released in the Apple/Samsung trial.
As seen in the gallery above, this early prototype has a number of ports that we're used to seeing more commonly on computers than on mobile devices, including USB ports, an Ethernet port, and even a serial port. Apple never intended for all of these to make it into the final product, of course—our source said that because this was a development prototype, ports like Ethernet and serial were included simply to make working on the device easier. Still, "at that early date no one knew what [the final device] would be," the source emphasized, highlighting the constantly changing nature of Apple's development process.
Perhaps in a few years we'll see prototype images of early iterations of an iWatch, or better yet, an Apple HDTV.
via Ars Technica