Apple's MacBook Pro with Retina Display recently trounced 18 Windows 8 laptops and a Samsung Series 3 Chromebook in a series of tests meant to gauge which notebook sports the best battery life.
The test was conducted by Which?, and the results clearly indicates that when it comes to battery performance, Apple's notebook simply can't be beat.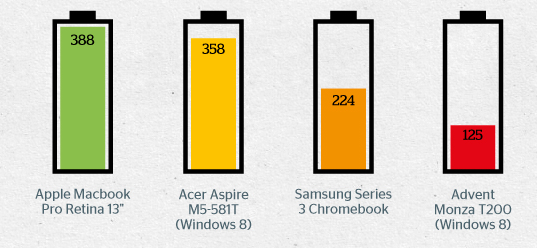 Apple's MacBook Pro lasted an impressive 6 hours and 28 minutes while the runner up – an Acer Aspire ultrabook – checked in at 5 hours and 58 minutes.
The longest running Windows 8 laptop for web browsing is the Acer Aspire timeline Ultra M5-581T – a 15.6″ screen, 2.1kg ultrabook. It lasted almost six hours on battery – enough to get you to from London to Middlesbrough and back – and fell 30 minutes shy of the battery life of the 13″ Apple Macbook Pro Retina, but costs around £500 less.
Lastly, we know that Windows 7 isn't the latest out of Redmond, but this particular testing result is so bad it's worth noting. Running Windows 7, the Dell Inspiron 17R was only able to churn out 1 hour and 45 minutes of battery life while browsing the web.
via Which