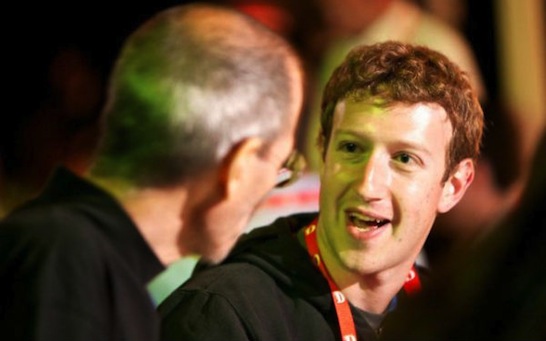 Last Friday, Facebook announced an incredible achievement, noting that over 1 billion people activeuly use the popular social networking site daily.
Take that Google+.
Touting the statistic in a press release, Facebook CEO Mark Zuckerberg explained, "Helping a billion people connect is amazing, humbling and by far the thing I am most proud of in my life. I am committed to working every day to make Facebook better for you, and hopefully together one day we will be able to connect the rest of the world too."
Later that day, Zuckerberg sat down NBC's Matt Lauer to discuss Facebook's monumental achievement with NBC's Matt Lauer last week,. There, Zuckerberg touched briefly on former Apple CEO Steve Jobs and the impact both Jobs and Apple have had on Facebook's culture.
Specifically, Zuckerberg noted that both companies share an obsession with the user experience.
"[Jobs] was just so focused," Zuckerberg said. "For him, the user experience was the only thing that mattered."
Interestingly enough, Zuckerberg was also asked about the iPhone 5 whereupon he revealed that Apple CEO Tim Cook had one sent to him personally. While the recipient of the gift might surprise some, the "act of giving", so to speak, isn't at all new to Apple. You might remember that Steve Jobs gave Barak Obama an iPad 2 "a little bit early" and that he also gave musician John Mayer an original iPhone before the iconic device even went on sale back in June 2007.
Also interesting is that Zuckerberg artfully danced around a question about which smartphone he uses as his main device, merely quipping that while the iPhone is a great platform, "there are more people who use Facebook on Android."
Lastly, it's worth noting that the respect Zuckerberg had for Jobs was mutual.
Jobs biographer Walter Isaacson once recounted how he once asked Jobs who he admired most in Silicon Valley. "Mark's was the first name on his lips," Isaacson explained.
Jobs admired Zuckerberg for his "intuitive feel" for what Facebook needed next, for his passion and willingness to "do stuff that allows him to be on shifting sands—his willing to cannibalize old things. He felt an odd kinship to Mark," Isaacson said.
You can check out a video of the interview below.
Visit NBCNews.com for breaking news, world news, and news about the economy