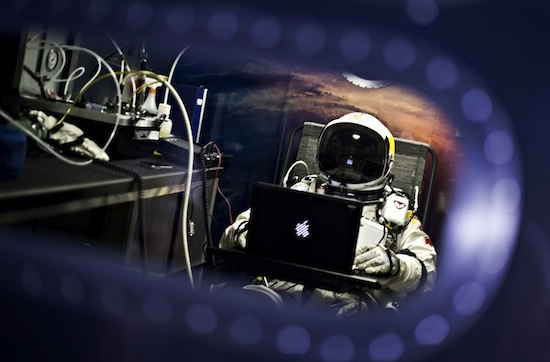 In case you missed it this weekend, daredevil skydiver 'fearless' Felix Baumgartner took a helium balloon up until the outer edges of the atmosphere where he then proceeded to jump off at a height of 128,100 feet, or 24 miles above Earth. During the course of his freefall, Baumgartner reached a speed of Mach 1.24, or 833.9 miles per hour, making him the first person to break the speed of sound barrier without an aircraft – notably though Baumgartner said he couldn't tell on account of his pressurized suit which shielded him from noise, and of course, protected his lungs from exploding.
Below is a video of the event and above you see that Baumgartner brought along a trusty MacBook for the ride. The MacBook photo was taken in the Red Bull Stratos Mission Control before Baumgarnter ascended to the brink of space with a helium balloon that measured in at 5 stories tall.
Upon landing, the Austrian native told reporters, "Sometimes we have to get really high to see how small we are. When I was standing there on top of the world, you become so humble, you do not think about breaking records anymore, you do not think about gaining scientific data. The only thing you want is to come back alive.
The photo above was reportedly taken by Predrag Vuckovic and Limex Images.
via Limex and be sure to check out more photos and videos over at ABC News.