Well just look at what Apple is up to these days on the Siri front. A recent job posting from Apple on LinkedIn reveals that the company is looking for someone with writing skills to jazz up Siri's dialogue.
We're looking for a uniquely creative individual to help us evolve and enrich Siri, our virtual personal assistant. Siri's known for 'her' wit, cultural knowledge, and zeal to explain things in engaging, funny, and practical ways. The ideal candidate is someone who combines a love for language, wordplay, and conversation with demonstrated experience in bringing creative content to life within an intense technical environment.
Indeed, during the first few weeks that Siri was released into the wild, a popular meme consisted of aggregating all of Siri's off the cuff, biting, sarcastic, and humorous answers to user-based queries. That little bit of fun was rather short lived and soon gave way to the "Siri is really messing me up" meme.
So perhaps Apple is trying to recapture some of that initial excitement by shoring up Siri's language abilities and entice people to use it more often. Incidentally, one of the key things the aforementioned job description is looking for is someone with the ability to "help the Siri team evolve Siri as a distinct, recognizable character." In essence, they're trying to make Siri just a tad bit more human like.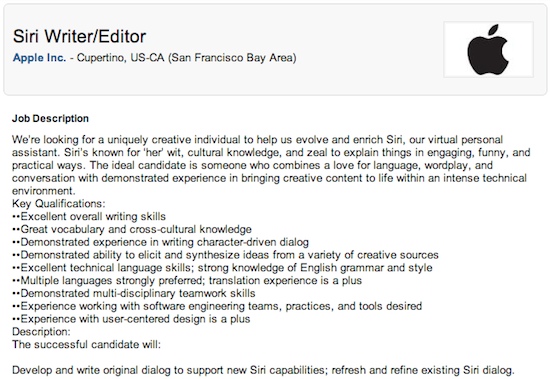 Related: Apple hires Amazon's William Statssior to lead Siri unit